Birmingham Brand Survey
The design of an inclusive city brand that satisfies Birmingham's diverse interests is impossible.
But we tried anyways.
Here's a bit of background.

The City Council and local businesses use Marketing Birmingham to promote the city as a destination for visitors and investors, and proposed the

Be Birmingham

brand designed by Boxer in 2003 (1).
Former Councillor Mike Whitby proposed

the global city with a local heart

slogan in 2005 (2).
From 2010 the Greater Birmingham and Solihull Local Enterprise Partnership has been working to develop a growth strategy and brand for

Greater Birmingham

(4).
We designed another to emphasize diverse individuals who together make up this great city (3), and are asking for your opinion.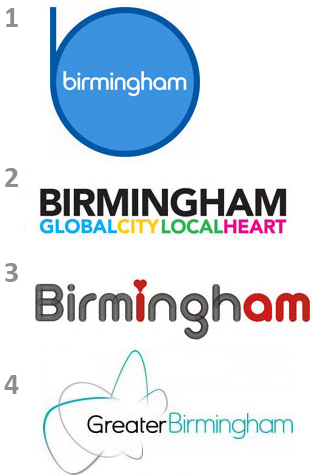 Thank you for your opinion.

We value your input, and welcome any constructive feedback. The initial survey responses are posted here.

For more information on our community-based, self-financed

Reimagining Birmingham

project download this PDF or click here.

Feel free to tweet us @brumwear with your comments or contact us if you have any questions.